At our Thursday 21 Nov Meeting, Events DC is going to give us a presentation on this project, below is an article from the Washington Business Journal. Go to the Link below to see the slide show.
http://m.bizjournals.com/washington/blog/top-shelf/2013/11/spy-museum-founder-lifelong-spy.html
International Spy Museum founder: Carnegie Library a great, permanent home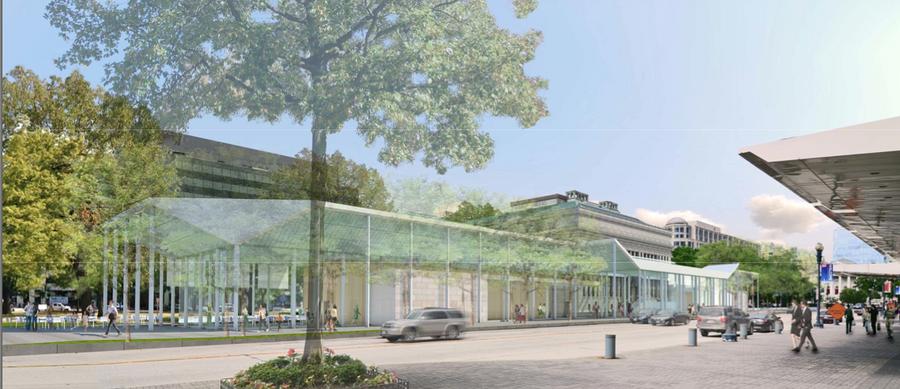 Milton Maltz, whose company, the Malrite Co., owns the International Spy Museum, has wanted to shed light on the world's deepest secrets ever since he worked as an analyst at the National Security Agency and Central Intelligence Agency in the 1950s.
"Back then we called it the 'no such agency,'" Maltz said during a meeting of the National Capital Planning Commission on Nov. 7.
Maltz was one of several key players in attendance at the meeting, which served as an informational briefing on his company's plans to partner with the District in moving his beloved museum into the renovated Carnegie Library.
The presentation also included an early look at what the renovated building could look like, including a transparent glass structure that would abut the north side of the former library, two open air pavilions extending like wings on the building's rear eastern and western ends and an open space plan that would provide activity space for visitors.
Click through the slideshow at right to see some early renderings of plans for the library.
The International Spy Museum was a project Maltz launched after he sold off his broadcast company, the Malrite Communications Group, in 1998. He wasn't ready to retire, he said, and as he had contributed to other exhibits and museums through the years, he contemplated a museum in Washington. But why spies?
"One of my assignments at the CIA was to declassify certain Pearl Harbor documents, and upon reading these docs, I was quite stunned, and I realized Pearl Harbor itself did not have to happen," he said. "I guess it hearkens back to my experience in studying those Pearl Harbor documents, when I questioned … [do] the American people really understand what's going on?"
Maltz told the commission that the library will make a fine home for the museum, which has far outgrown its current space in Penn Quarter. The larger space is also needed for Maltz's exit strategy: the 84-year-old's children aren't interested in running the museum, so he wants to establish it as a self-sustaining 501(c)3 organization with a permanent location.
The museum's renovations will have to be approved by the NCPC, the Advisory Council on Historic Preservation and several other agencies. Events D.C. — which administers the library for the District — is beginning the environmental impact process for the project this month.